Invest in HOPE with Hogar Hispano!
Homeownership | Opportunity | Preservation | Equality
Hogar Hispano Incorporated (HHI) aims to stabilize distressed communities through investment in affordable housing. For the past two decades, HHI has provided result-driven alternative housing solutions and foreclosure prevention strategies nationwide.
Since 2011, HHI has infused more than $125 million of private capital into various hard-hit communities, by acquiring distressed mortgages valued at over 200 million dollars with additional capital invested to acquire thousands of real-estate owned (REO) properties, both designed to provide large-scale solutions to a growing housing crisis.
HHI NPL investments can range from 1 to 3 years in duration. This varies depending on the interests of the investor and the specifics of the loan pools acquired. In either case, the capital is generally returned in full by month 12-14. As indicated in the exhibit below Returns on Invested dollars for NPL pools can range from 30-50% over the investment period. Obviously, these Rates of Return will vary depending on markets, programs, and investment strategies.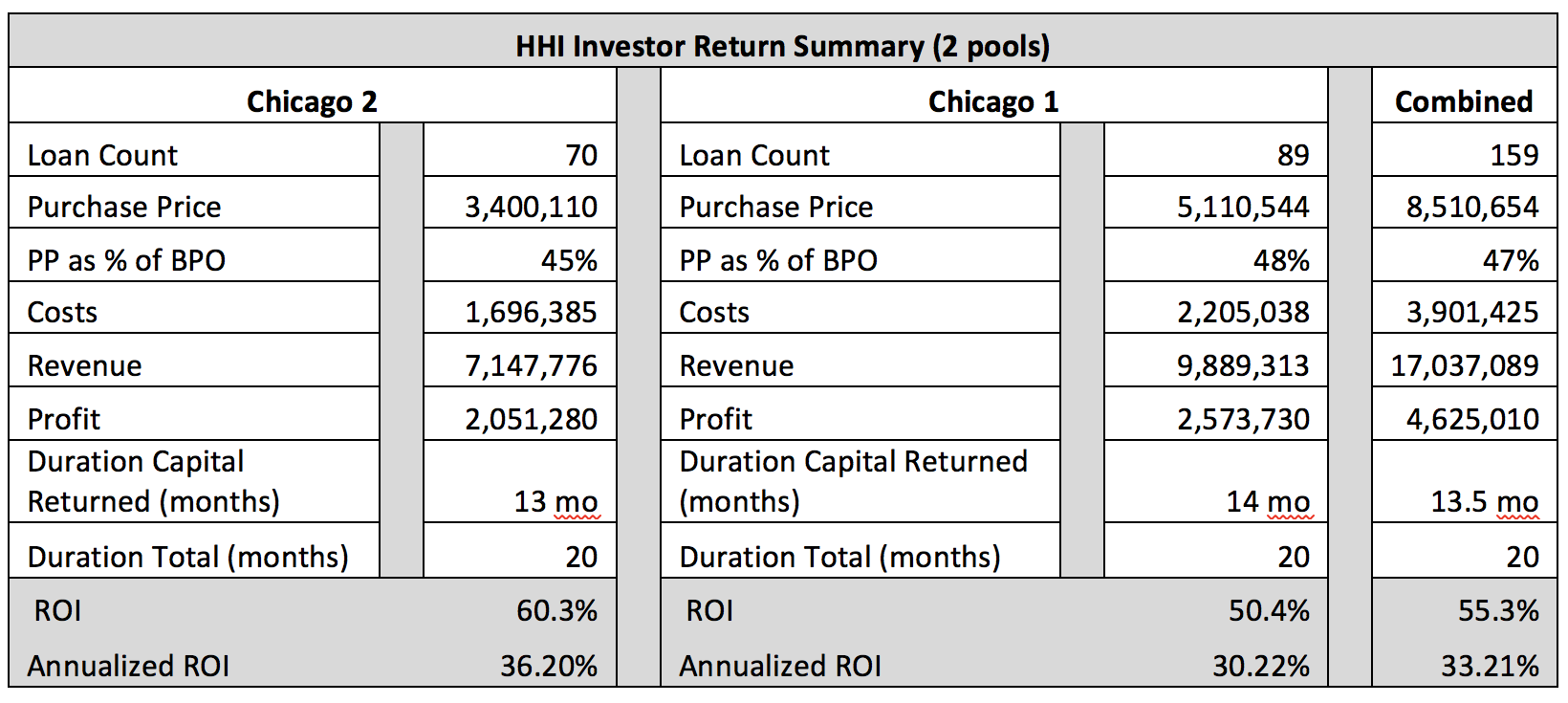 The strategy of acquiring distress mortgages helps homeowners avoid foreclosure by offering principal forgiveness, loan modification, and reinstatement. Other strategies, such as short sales and cash for keys, are also utilized as needed. REO properties are renovated or made ready for sale and offered as affordable options in these areas.
In addition, HHI works with local, state, and national for-profit and non-profit organizations to ensure homeowners and tenants are well informed and fully prepared for the responsibilities associated with an HHI-controlled asset—providing a level of security to HHI, its investors, and the consumer.
Access to capital is paramount to HHI's mission. In-house capital, made possible by private investors, allows HHI to respond to qualifying assets and yield neighborhood stabilization rates twice industry averages, all while delivering above-market returns.
Equipped with a proven model, skilled team, and successful track record in multiple regions and diverse market conditions, HHI remains in a unique position to stabilize neighborhoods through its program.
Please complete the form below, and a member of our team will respond within the next 48 hours.